10 Most unique houseboat rentals in Amsterdam
---
Most quirky houseboats in and nearby Amsterdam
Check their availability using the search bar below.
Top 10 most luxurious, unique or special themed houseboat rentals in Amsterdam – hand picked, curated and verified.
This website gives you a carefully compiled selection of the finest houseboats in Amsterdam. They all have their own unique characteristics. We offer a continuously updated hand picked collection of floating homes in and around Amsterdam. Bookings and payments are handled by our premium partner Bookahouseboat.com, worldwide leader in the field of houseboat rentals.
Below you'll find our current selection of distinctive houseboats for rent in and around Amsterdam. Use the search bar above to search 150+ houseboats in 'the houseboat capital of the world'.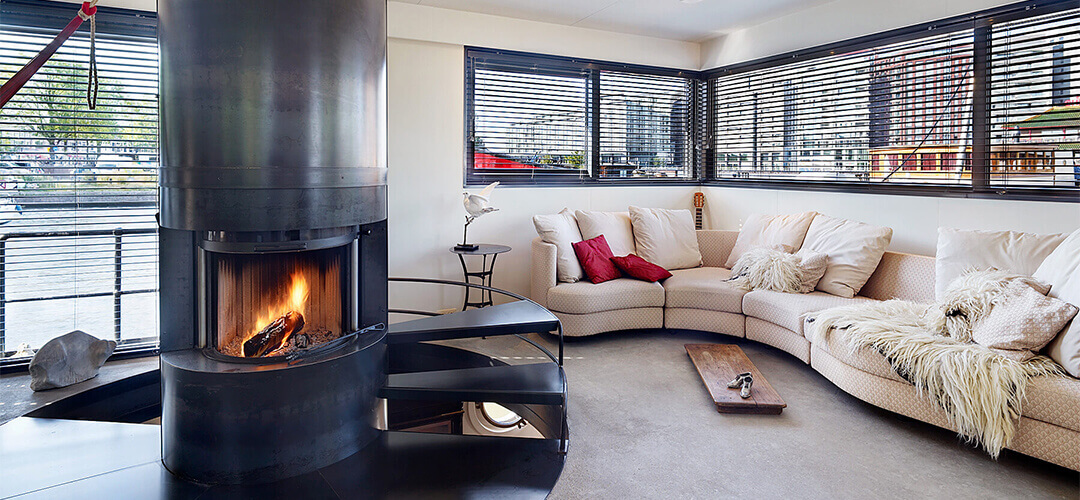 A true eye-catcher of the Diamond class watervilla are the rugged steel stairs with an integrated fire place on each floor that seems to grow right through the whole houseboat. Also in the kitchen area, they have used lots of steel and stone to create a cool, tough atmosphere. Yet, the large windows and sliding door let lots of light in. The happy red kitchen table gives the whole place a nice touch, putting a broad smile on your face as soon as you enter the boat. Sleeps up to 4 guests.
This amazingly renovated former freight ship was built over a century ago, and now she is the 'flagship of the fleet'. This houseboat was renovated under architecture and offers cutting edge technology, a stylish wood stove burner, a Sonos and a B&O sound system, Nintendo games and a fully equipped kitchen. And the location, well… it just could not be any better! The ship is docked right in the city centre at walking distance of Central Station, Waterloo Square, Nieuwmarkt and the red light district. Sleeps up to 4 guests.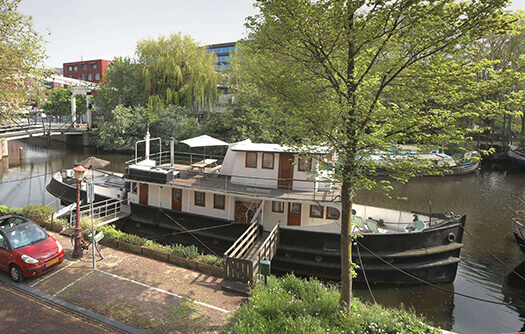 Take your holiday to the next level with an amazing stay on this exclusive boat, actually a historic ship, located in the most beautiful part of Amsterdam (Prinseneiland area). The houseboat is very clean, luxurious, tastefully furnished and has all the accessories you could wish for. Your private room with original details is very modern and well maintained. This mix of a modern and traditional decor makes the houseboat unique and almost incomparable with other boats. The cosy but bright and modern room will go beyond your expectations. Explore the nearby beautiful city center on foot or by bike.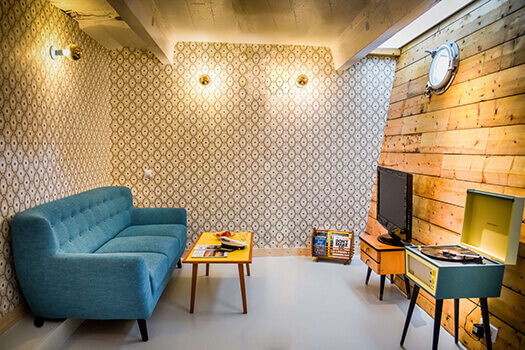 This is a ship with an amazing history. She was built in 1943 with only one purpose: transport ammunition and fuel from England to France to keep the allied war machine going and win the war. Just after the war, in 1951, she ended up in Amsterdam where she could take it easy. We are proud and happy to live aboard this concrete ship and share the front part with you. As a tribute to her hard labour during WW2, we decided to renovate this place and give it a jolly 50's theme. War is over, time to celebrate life! Some highlights:
Cosy atmosphere in a truly unique WWII ship
Great swimming right from the dock next to your boat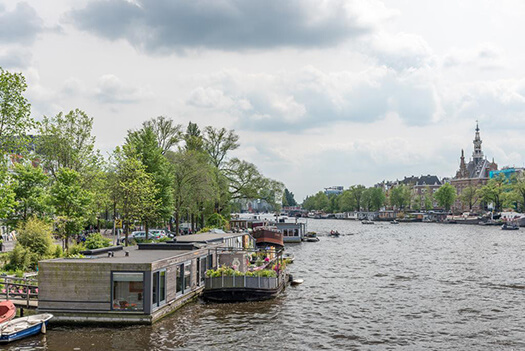 Some houseboats just have it all: the Triple A-location, the design, the ambiance, the view and a XXL waterfront terrace. This contemporary designed houseboat has two floors, designed to make your stay as pleasant as possible. From the open kitchen and living room you have an amazing view over the Amstel River, making you feel like a local right away. And this feeling will only get stronger as soon as you step on the 48 sqm floating terrace! The master bedroom, second bedroom and luxury bathroom are conveniently located on the lower floor. Sleeps up to 4 guests.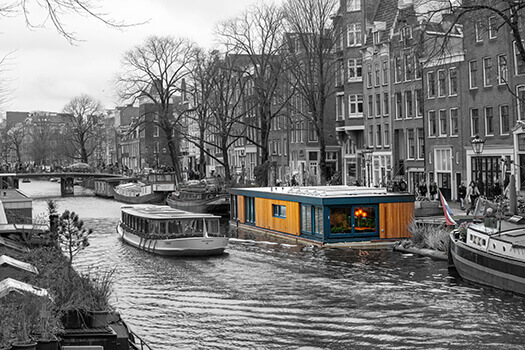 Stop looking, you found the most characteristic way to stay and enjoy Amsterdam: your own suite on a newly built real houseboat! A trippel AAA location on the Prinsengracht. Everything you want to do and visit is on walking distance. The houseboat is situated in a lovely area, near galleries of the '9 streets' and surrounded with many cafes and restaurants, all very nearby. This is your ideal place to stay, it won't get better than this. It can host 4 people in 2 different suites.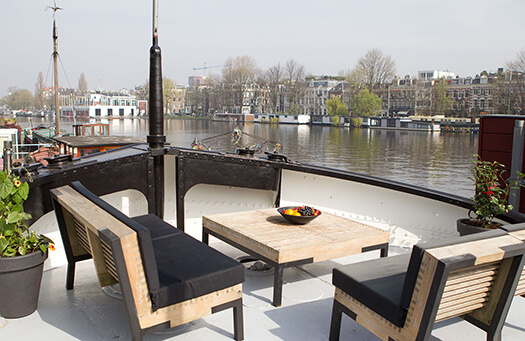 5) Authentic houseboat with 3 bathrooms and sun deck
If you are looking for an authentic houseboat experience, this luxuriously renovated freight ship might be just your cup of tea. With three bedrooms and no less than three bathrooms this is the perfect place for two or three couples travelling together. The interior offers stylish timber work all through the place and lots of plants for a warm and natural atmosphere. Outside you have access to a deck terrace – without a doubt the best place to enjoy the ever changing views over the river Amstel with a good glass of white wine at hand. Sleeps up to 4 guests.
Book this houseboat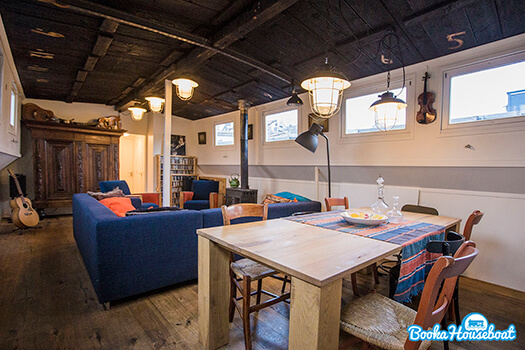 6) Characteristic ship with 2 bedrooms and 2 bathrooms
This is a rare find for sure: a whole ship with two bedrooms and two bathrooms, docked only 5 minutes away from Amsterdam Central Station. And having a private, half secluded garden right in front of your door. There is a large living room with open kitchen, both having a oak wooden floor and stylish homely furniture. In the front of the ship there is a private apartment with en suite bathroom and at the end of the ship you will find the master bedroom with a high quality double bed. And maybe the nicest place of this former freight ship: the wheelhouse with still the wheel intact. Be the captain aboard your own ship in Amsterdam! Sleeps 4 guests.
Book this houseboat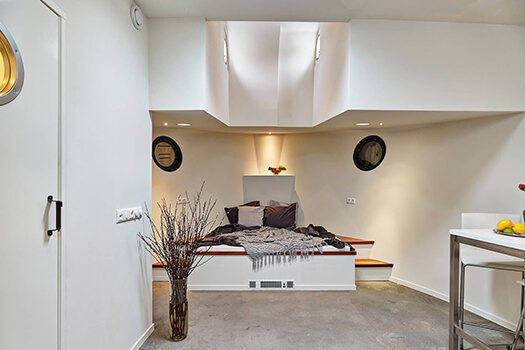 The Couples Stay is the perfect accommodation for a two couples trip or small family vacation. The houseboat has two bedrooms located on the same houseboat with their own facilities and accessed by two separate entrances. This can guarantee privacy and a joined vacation at the same time.
Located only a few minutes from Amsterdam Central Station, both apartments are newly renovated with a special attention to details. And the location could not be better: close to the buzzing city center, yet you are assured to enjoy a good night rest since our harbor is peaceful and away from the tourist masses. Sleeps 4 guests.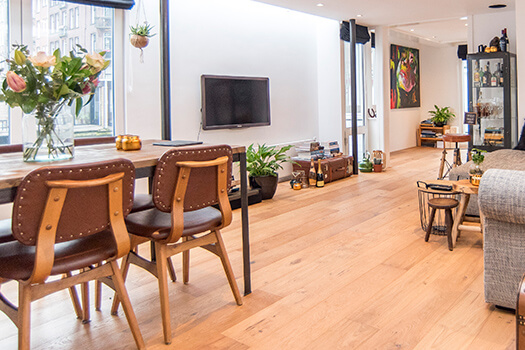 7) Comfy houseboat with sauna and terrace
In the 'Old West' part of Amsterdam we offer this tastefully decorated and very comfortable floating villa with two bedrooms. The interior offers a very warm atmosphere thanks to the abundant use of natural materials such as wood, steel and leather. Charming plants are dotted around and lots of light enters through the large windows. And to make things even better, know that you have access to a sauna and water front terrace. Get ready for some ultimate relaxation! Sleeps 4 guests.
Book this houseboat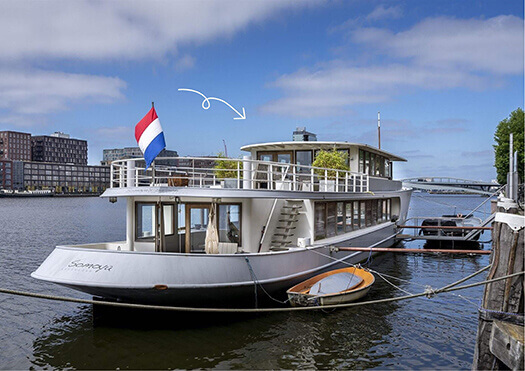 7) Comfy houseboat with sauna and terrace
Picture a bright, luxurious and cozy houseboat with a huge deck. Now picture yourself on it. Surrounded by glistening water, gently swaying in your hammock al fresco, rewinding after a day in the hustle & bustle of the city. Feels pretty amazing, huh?
Moored on Java Island, the top floor of our ship where you'll be staying provides the perfect setting to explore and relax. Watch the sun rise on your left and set on your right, enjoy the glorious harbour views, the sun deck, the BBQ, the books, the good coffee, the private sauna or just the whole houseboat experience. You can even join the locals for a refreshing swim in the IJ-river.
Book this houseboat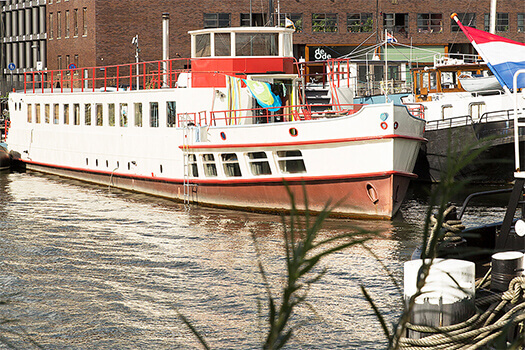 All aboard! This amazing vessel is a former ferry that cruised the rivers in Germany and now welcomes guests from all over the world for an unforgettable stay in Amsterdam. The houseboat offers a contemporary interior design with a personal touch. One of the unique selling points is the roofed terrace that offers both shelter and comfort all year round. The ship is located in the Eastern Docks and has a good connection with the inner city with public transport. Sleeps 4 guests.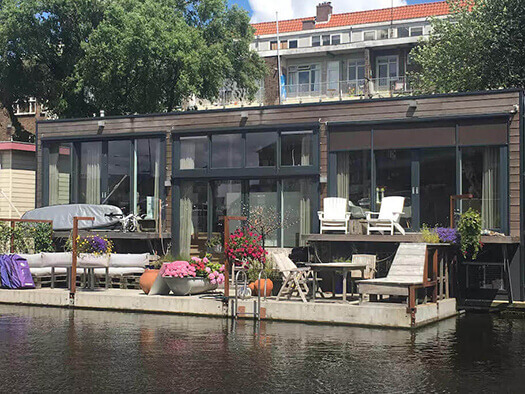 This two floored houseboat offers everything you might expect from a high-end villa, but then with the benefits of staying on the water. Watch the swans, ducks and geese swim by while you enjoy an unforgettable time with your beloved ones in Amsterdam.
The floating villa is best described as contemporary, light, bright, warm and characteristic. You will feel all the love the owners have put into it, achieving their goal: strive for the ultimate houseboat experience.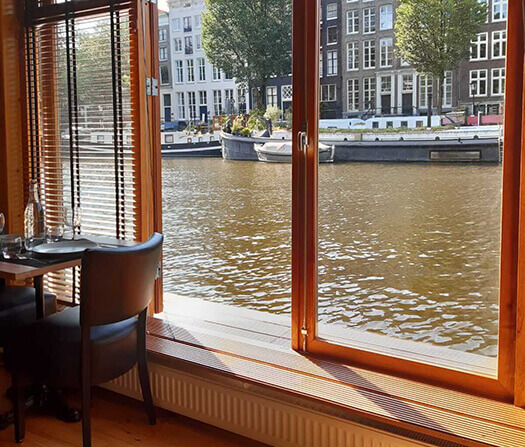 A wooden cottage in the middle of the city center, yet in a quiet neighbourhood, just a 10 minute walk from Central Station! It has huge windows that can be wide opened, where you can enjoy a wonderful view of the canal! The studio has a double bed, a small table with two chairs, two armchairs and a complete private bathroom. It is equipped with everything you need: smart flat screen TV with more than 100 cable channels, WiFi, fridge, microwave, coffee maker, kettle and a toaster. Some highlights:
Just a 10 minute walk from Central Station
200 meters from Waterlooplein and Nieuwmarkt
Amsterdam is the safest city in Europe
Some comforting news. According to the Economist's 2019 safe cities index ranking Amsterdam is the safest city of Europe! And the forth safest city worldwide. It got an overall score of 88 out of 100 and scored very well on infrastructure security (92), personal security (89.4), digital security (89) and health security scored 81.6 out of 100. So feel safe, at ease and at home in the countries capital. Yet another great reason to visit Amsterdam.
Looking for even more houseboat rentals in Amsterdam?
On our premium partner website we have more than 150 houseboat rentals listed in Amsterdam alone. Have a look at all the possibilities, the options are endless.
Want to rent your own houseboat to guests?
You've come to the right place. Do you have a B&B? Or want to rent during your holidays? Follow the link below to start listing your houseboat. Or contact us and we'll help you create your listing.
Contact us – for well, anything houseboat related!
We are waiting for your call. And as always glad to help. Just send us your question.
Book a houseboat in Amsterdam and live like a local
Back in the days, boats were reserved for leisurely cruising. Today, many vacationers to Amsterdam can't get enough of the amazing experience of staying in a houseboat. Renting a houseboat is a great way to see nature at its finest from a unique perspective – even in an urban environment like Amsterdam. Staying in a hotel or luxury resort can get a bit boring. With a houseboat, amazing views are never far away and you will experience what it is like to live like a local.
A houseboat holiday offers lots of possibilities that you don't get when staying in a  regular apartment or hotel room. Especially when renting a driving houseboat. For example: are you tired of your neighbors? Change slips, and you will find yourself staying next to someone else. Don't feel like going to the grocery stores? Bring out your hooks and line for a great fishing adventure. Life on a floating home is indescribable; it's something you have to experience firsthand to know what staying on a houseboat is like. If you're planning your next family vacation or honeymoon to Amsterdam, renting a houseboat is also highly recommended. You won't be able to drive the boat since the floating homes in this city are all docked, but there are countless other great reasons to rent a one in the capital of The Netherlands. But first something about the history of this special way of living.
The evolution of Amsterdam houseboats
Houseboats in Amsterdam have historic charm and play a significant role in the rich historical past of the city.  You'll find lots of old ships converted into living spaces and uniquely designed floating mansions. After World War II, the city suffered a major housing shortage. As a result, lots of families turned old cargo ships into living quartets and docked along the canals in order to avoid the expensive housing and taxes. Yes, just a few decades ago, living on a houseboat was something for the less fortunate. Though life on a boat might have been uncomfortable, it was affordable. Not only that, locals can easily change the position of their home. This led to the popularity of houseboats. How things have changed! Today, floating homes are just as luxury and at least as expensive as regular houses – especially the stationary houseboats built on concrete barges. These places are seen by most tourists as a beautiful place to stay as they come fully equipped with state of the art amenities guaranteeing a comfortable stay for occupants.